Live wedding painting is a specialty service where a fine artist paints the scene around them as the scene is happening. It requires a painter who is extremely fast, makes quick decisions, and is comfortable with a live engaged audience. And nobody does it better than our very own Kierra Ready, owner of Freemind Creations.
"The artist sees what others only catch a glimpse of."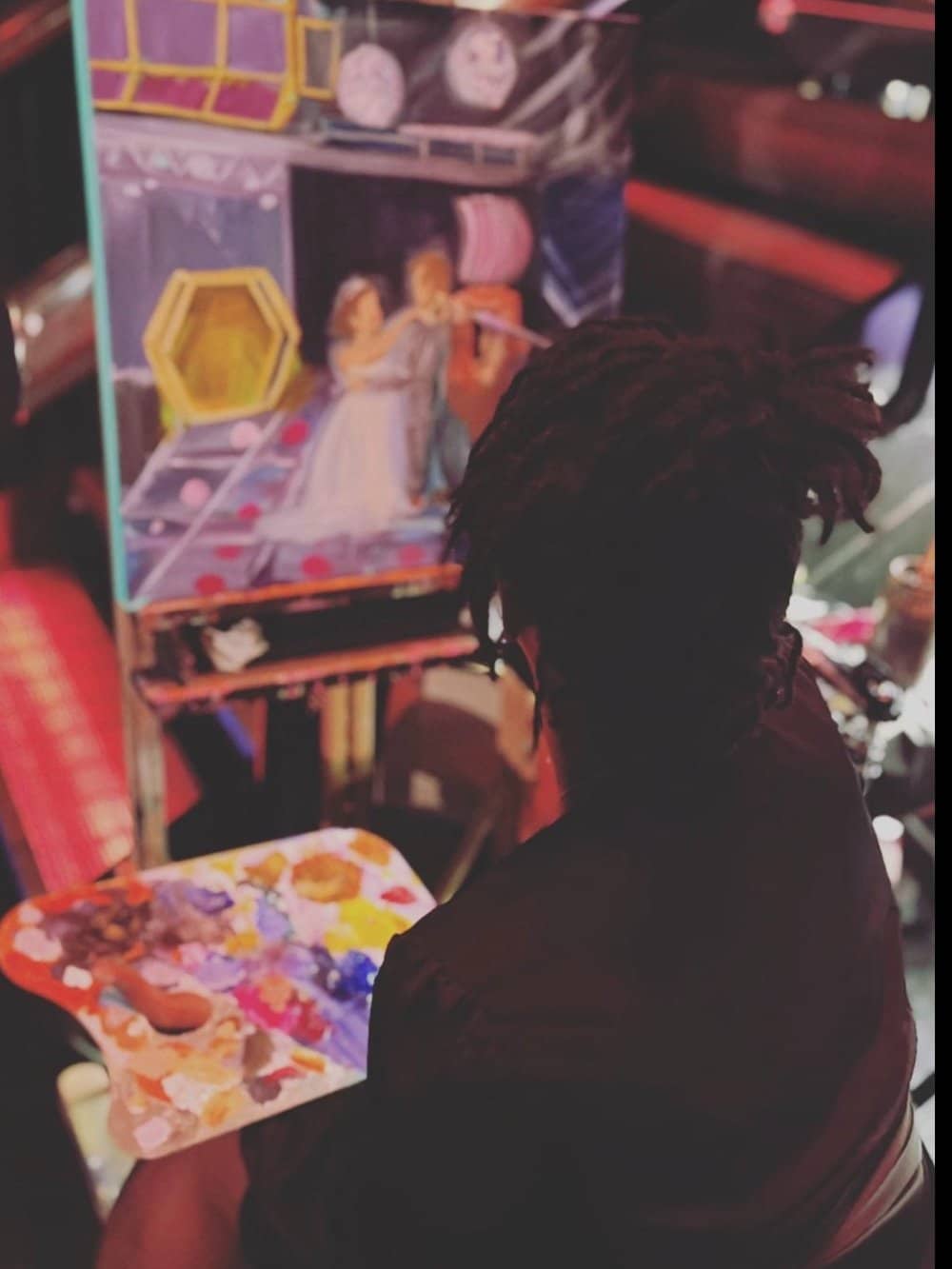 Live Wedding Painting is an exciting experience!
This Is a unique form of entertainment for your guests and you'll end up with a precious family heirloom.
At your wedding or event, I will create a beautiful piece of art right in front of your guests.
My goal is to make the process simple and enjoyable for you.
I take pride in providing detailed and accurate figures with my own unique touch.
Painted live, with love and care.
My goal is to make the process simple and enjoyable for you.
We'll discuss which special moment you'd like to have captured – after you say your "I Do's", during your champagne toast, or during your first dance. It's all up to you. We'll discuss what's most important to you so that your favorite moment and your favorite people are captured on canvas.
Choose your painting package
Choose between a small, medium and large canvas for your painting. Custom sizes are available, just ask.
I'll arrive 2-4 hours early to set the aesthetics and begin painting before your guests arrive. I interact with your guests as they witness the painting evolve throughout the night. They love to peek over my shoulder as the scene unfolds and sometimes I'll event give them the paintbrush so they can paint a few strokes.
Next steps to get started
Set up a consult call to discuss your expectations for the painting
I will send you a custom proposal based on your goals
Submit your 50% retainer to lock in your event date
My clients are the heart and soul of what I do.
Without them, I would not be able to do what I love to do.
Here's what they're saying: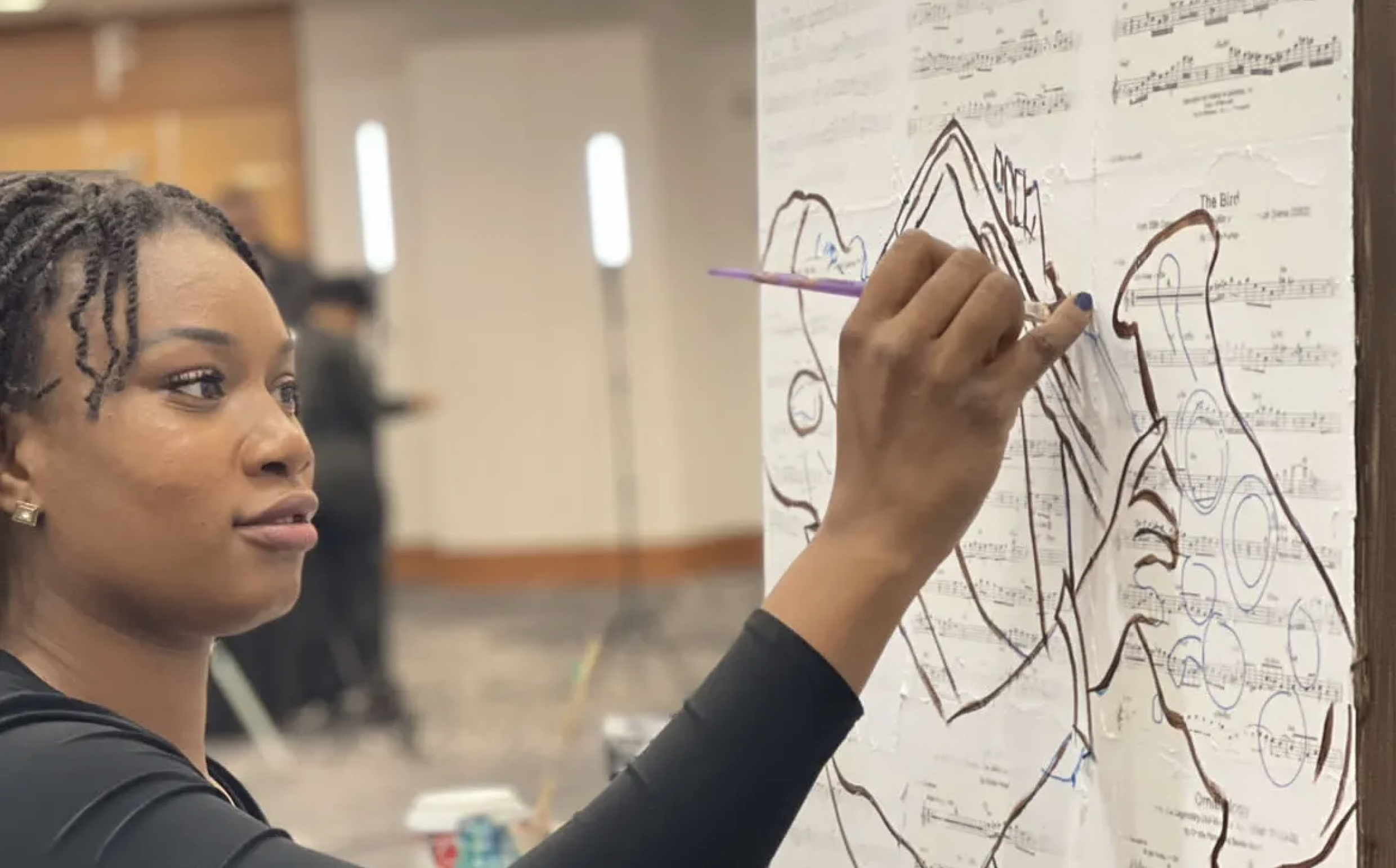 "Thank you so much for the beautiful painting of us! We love it so much, it is hanging in the bedroom. You are so incredibly talented!"
"'I view Kierra's style as very fluid. I especially enjoy her colour sense. As an individual she is extremely supportive of the arts. Painting is her passion, and it shows in her character. With all her success, she remains humble and a joy to speak to."
"Thanks to her perfect mix of professionalism with a creatively fun spirit, I found it was always a pleasure working with Kierra. Her painting skills and her ability to take the time to understand the clients need is superb. If you ever get a chance to work with her and utilize her skills and talent, seize the opportunity!"
Live Wedding Painting FAQs
Q: Can I choose who is in the painting?
Of course! In addition to the people of honor (ie. bride and groom), you may choose up to 6 additional guests to be painted in your artwork.
Q: What medium will you use for my paining?
Paintings are done using acrylic paint on stretched canvas.
Q: Do you travel?
Yes! The first 35-mile radius of Elkhart, IN are completely free. We also travel to Empeiria 110, The Sixpence, Mustard Seed Gardens, and Iron & Ember at no extra cost!
Venues Over 35 miles: $1 per mile (One-Way)
Venues Over 75 miles: Hotel may be required for 1 or 2 nights depending on event times and distance + $1 per mile compensation
Q: What does the venue need to provide?
My setup is minimal and I will provide everything that I need to create your painting. I would simply need a clear space of approximately 5′ x 5′ inside or out.
Q: Can I get a print of my painting?
After submission of your initial Inquiry, I will send you a proposal with a cost of your requested services. You will be able to pay the invoice directly from your email.
Q: How much is the investment?
Book our team to DJ or film your wedding and Kierra will come paint live for $500!

We're professional, experienced, and very skilled at what we do. We take great pride in our production skills and keep you and your guests involved at all times. Sound like a fit? Contact us today!